West Carroll High FCCLA Members win Gold and Silver at the National FCCLA Food Innovations Competition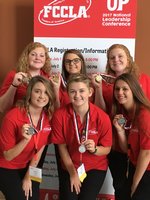 Top row Elizabeth Hudgins, Alayna Murphy, Emily Hudgins, Lower row Aliesha Annis , Zoey Cook, and Susie Waters
The West Carroll FCCLA chapter was honored with Gold and Silver medals at the 2017 National FCCLA Conference held at the Music City Center in Nashville Tennessee. Over 4,200 members competed in the National Star events. The Food Innovations competition is an event category that focuses on students developing and creating a new food product. Members spent many hours researching, testing and preparing their food products for marketing. The food innovation category recognizes participants who demonstrate knowledge of the basic concepts of food product development by creating an original prototype formula, testing the product through focus groups, and developing a marketing strategy.
The West Carroll Occupational and Jr. Teams had to win at the District and State levels in order to qualify for the National Competitions. Attending the Nationals Competition would not have been possible without the support of our local school board ,community businesses, and individuals who help fund the trip.
Gold Medal Winners Emily Hudgins, Alayna Murphy, Elizabeth Hudgins, placed 5th in the Nation in the Food Innovations Occupational Division. While Susie Waters, Zoey Cook and Aliesha Annis won Silver Medals in the Jr. Category.